Guess Who Isn't Welcoming Brittney Griner Home? Random Thoughts
Guess Who Isn't Welcoming Brittney Griner Home?
Random Thoughts
This is probably an easy one for most of the readership.  There are many clues to work with as to what element is hostile to the notion of former WNBA, NCAA and U.S. Olympian women's basketball great Brittney Griner returning to the United States following the (partially) successful conclusion of negotiations between the Biden administration and the Kremlin that involved the exchange of convicted Russian arms trafficker and Soviet era Lieutenant Victor Bout (pron. "Boot") for her release.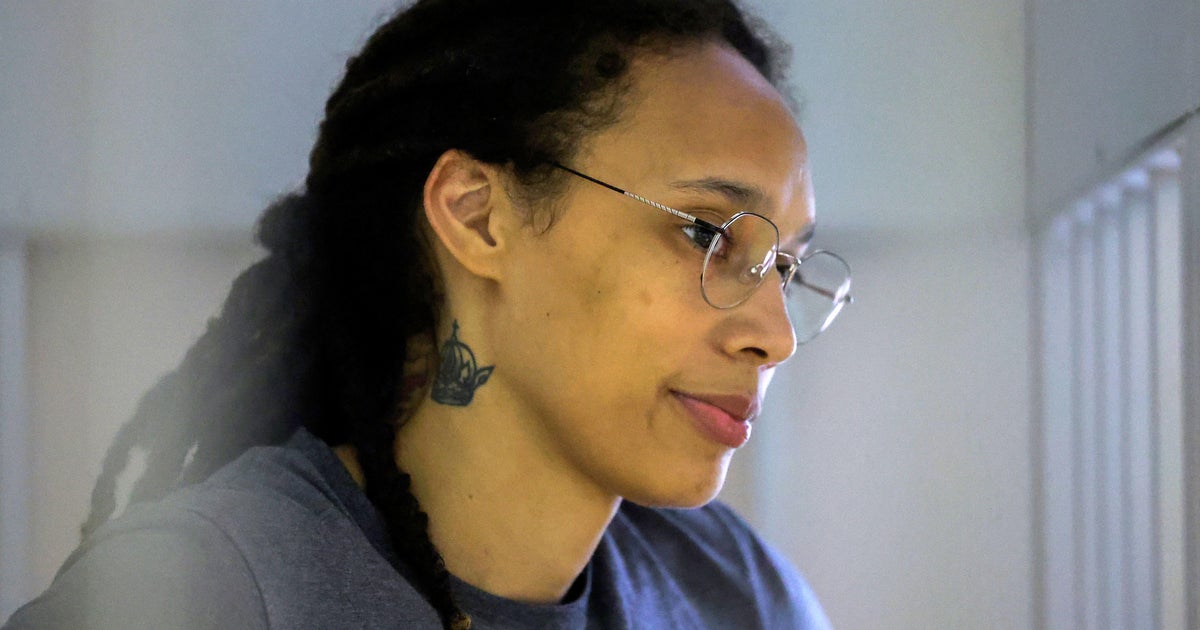 Brittney Griner released by Russia in 1-for-1 prisoner swap for arms dealer Viktor Bout
Griner was detained by Russia in February and sentenced to nine years in prison for having vape cartridges with cannabis oil.
Let's start with who isn't criticizing Biden. That would be the family of 52 year old Paul Whelan, native to Ottawa, Canada and a Marine veteran with American and U.K. citizenship that the Russian Kangaroo courts falsely convicted on trumped up (no pun intended) charges of espionage and who was working as head of global security for a Michigan based auto parts distributor at the time of his arrest.
Whelan's brother, David Whelan, said in a statement that while he can "literally only imagine the joy she will have, being reunited with her loved ones, and in time for the holidays," the inability to also bring Whelan home remains difficult for the family to process.
Whelan went on to add that, "It is so important to me that it is clear that we do not begrudge Ms. Griner her freedom. As I have often remarked, Brittney's and Paul's cases were never really intertwined. It has always been a strong possibility that one might be freed without the other."
Paul Whelan himself, is understandably disheartened that his circumstance was not resolved as part of the Griner negotiations, telling CNN in a phone call that he is "greatly disappointed that more has not been done to secure my release, especially as the four-year anniversary of my arrest is coming up. I was arrested for a crime that never occurred."  Russia sentenced him in 2020 to 16 years in jail. 
Ms. Griner's supporters, including the WNBA and Griner's wife, Cherelle, pledge to continue the fight to see Paul Whelan and other Americans returned from Russia. 
Missing from the mass media coverage is the uncomfortable fact that Whelan's service (2003 – 2008) with the Marines was concluded with a dishonorable discharge on the grounds of larceny and lesser offences, based on activities connected with his role as an administrative clerk in Iraq, in which he attempted to steal $10,000.
Be that as it may, it does not justify Whelan's arrest or incarceration, nor the common practice on the part of the Kremlin and their international allies of detaining Americans and other nationals as political pawns on falsified charges.  Neither has it been a factor in how committed the Biden administration has been in its efforts to secure Whelan's release.
And President Biden lamented Putin's skewed and deliberately lopsided calculus in his handling of the matter and committed the administration to continue to work on behalf of the Whelan family, telling reporters, "Sadly and for totally illegitimate reasons, Russia is treating Paul's case differently than Brittney's. And while we have not yet succeeded in securing Paul's release, we are not giving up. We will never give up."
So now that we have established who hasn't lamented Brittney Griner's emancipation from a harsh and virtually uninhabitable penal colony, IK-2, in the region of Mordovia (which sounds uncomfortably like the fictional HQ of Sauron in Mordor of Tolkien's Lord Of The Rings trilogy) – let's introduce the spiteful contrarians that do.
As a collective, we're talking about the MAGAts – including the Evangelical / Christian Nationalist element and its submissives in the Republican party. 
Some, including House Speaker hopeful Kevin McCarthy, are framing their objections to the prisoner swap as deep concerns regarding the arrangement as being likely to incentivize more Russian detentions and additionally on grounds that Ms. Griner's release over that of Whelan, is "wokeism", "celebrity admiration" and an "insult to the military."  
An example of the latter, are comments issued today by Rep. Guy Reschenthaler (R-PA), a U.S. Navy veteran,  representing the 14th district in Western Pennsylvania, calling the swap "patently offensive" and accusing the Biden White House of political partiality towards the plight of Griner in comparison to Whelan as well as Marc Fogel, 61, a teacher arrested in Moscow with medical marijuana in his luggage — a case that mirrors Griner's.
Reschenthaler stated that, "It is clear Whelan and Fogel are afterthoughts to this administration, who care more about celebrity admiration and wokeness than returning all Americans safely to their families." He also, according to the Daily Mail, warned that the Republican House next year will want to investigate the administration's decision-making.
That's one thing about the incoming six seat GOP majority. They intend to turn the House into a political version of Golden Corral, only not with food based gluttony, but rather, all you can eat (or stomach) investigations into everything and anything other than themselves. Biden's successful return of Ms. Griner is to them, just another return to the pig trough posing as a buffet. 
But additionally, none of these claims stand up at all. First, Russia is not new to this game and another Marine, Trevor Reed, was detained on charges of "public intoxication" and assaulting police officers, sentenced to 9 years and released at the end of August this year.
Reed's release was the result of successful negotiations by the U.S. State Department and Biden administration officials.  In Reed's case, as in Griner's, there was a prisoner swap and Reed, like Ms. Griner, had also been held at a detention camp in Mordovia. 
The prisoner exchanged for Reed, was a Russian pilot, Konstantin Yaroshenko, who had been sentenced by an American court, to a lengthy prison term on cocaine trafficking charges. Not surprisingly, none within the chorus of disapproval on the GOP side this time around, thanked or congratulated President Biden at the time for his and his administration's success in securing the release of Mr. Reed, other than Senator John Cornyn of Texas.
The point here, is that Putin's Russia could not possibly be more emboldened by the agreement leading to the freedom of Brittney Griner than it has already been with previous dispositions.
Beyond that, the lack of credibility from the Republicans is displayed by a couple of other factors, one of which is their specific complaint about Victor Bout being released.   
Retired Army National Guard Brigadier General, Rep. Scott Perry, complained on Twitter (where else?), saying: 
"So @POTUS just traded an enemy who smuggles guns and helps shoot Americans for an American who smuggles drugs and shoots basketballs, all while a former US Marine, Paul Whelan, rots in a Russian prison. Let that sink in."
I did let it sink in, Scott and you are full of it.  Ms. Griner had an infinitesimally minute amount of Cannabis oil, which thousands of Americans use to deal with medical issues and to control pain. She is not someone who "smuggles drugs" anywhere and you know it and you regurgitated Russian propaganda, disgracing her and yourself, for what? Crickets …
As you can see, this was the direction the Republicans were inevitably headed in – and that is trashing Brittney Griner as well as the president.  Just for a moment though, I have to respond to the faulty logic and inconsistency. Scott Perry would have no issue with Bout's early release from American incarceration, if only it had been in exchange for someone he considers more worthy than Griner.
From here, if you try to zip all this together, the zipper breaks, because first we were told that a prisoner swap was basically a moral hazard that risked more of the same, even when detainment of Americans was far from novel in recent history, but then supposedly, the real reason it's no bueno is because Victor Bout is too much of an international security risk to return to Russia. 
The drapes just don't match the rug here, people.  So, clearly, to some of us, at least, this is all pretense for something else they don't want put in plain terms, although Rep. Perry came very close to it. And that is what brings us to … drum roll, please … Marjorie Taylor Greene.  
And, in the ultimate anti-climax, sore loser, soon to be indicted and one term former POTUS, Donald Trump was compelled to post this on Falsehood Social, despite that almost no one cares about his compulsive obsession about lying regarding everything imaginable and broadcasting it widely:
This, coming from someone who, as we learned in recent days, 'loves our country' so much that he stands willing to call for the Constitution to be shredded so as to pave his way to occupy the Oval Office without an election.
Some ironic convergence in Brittney Griner's return, is that it comes on the very same day that the House of Representatives, by a vote of 258-169, with all of the Democrat caucus plus, amazingly 39 Republicans (notable among them outgoing Rep. Liz Cheney of Wyoming) voting in favor – approved the Respect For Marriage Act, granting federal recognition of same sex marriages, such as Ms. Griner's.  
The Victor Bout objections are poorly coded cover for the real sentiment behind the Right wing opposition to the deal that was transacted. MAGA, Christian Nationalist Trumpublicans admire Vladimir Putin and his regime for the manner in which they deal with the very element of society that they would dearly love to see erased here in America – the enemies of their culture wars, namely, in this instance, members of the LGBTQ community.
MAGAverse was delighted to hear that Ms. Griner would be sent to a hellish penal colony and they are extremely angry now that she has been ransomed from that fate.  As one social observer, "Sam", writing on the blog, Etiologies, describes it:   
Griner embodies everything the MAGA base despises most.  She is a powerful, Black, homosexual woman.  Her athletic success and physical prowess implicitly threaten those prone to embrace the "great replacement" theory of White supremacists. 

Griner's person is an object of disdain that variously encompasses the racism, misogyny, and homophobia that permeates the Republican Party.  This inherent disdain of everything Griner represents explains the universal silence of Republican leaders on Griner's situation. 

The Republican Party's general position on Griner is fully consistent with the despicable take on her condition embraced by its leader, Donald Trump.
As I have stated elsewhere, Christian Nationalism animates the Republican party and what animates Christian Nationalists is cruelty and hatred of those perceived to be their opponents according to the worldview they believe is informed by God and the Holy Scriptures. 
Nothing typifies this sentiment better than a statement from one of Trump's attorneys that failed to convince the court system that Trump actually won the 2020 election.
Jenna Ellis, who dubs herself, "America's Lawyer", in speaking of the five victims murdered in the massacre at Club Q in Colorado Springs last month, stated that:  
"The five people who were killed in the nightclub that night, there is no evidence at all that they were Christians. So assuming that they were not, that they had not accepted the truth of the gospel of Christ and affirmed Jesus Christ as the lord of their life, they are now reaping the consequences of having eternal damnation.

And that is far, far greater – we should be having that conversation. Instead of just the tragedy of what happened to the body, we need to be talking about what happened to the soul and the fact that they are now in eternal separation from our lord and savior Jesus Christ."
I might ask Ms. Ellis what evidence she would present as proof that she is a Christian any more than a fake Rolex watch approximates the genuine article.
Lest this seem almost too bizarre to have actually been publicly said and Ellis too stupid and arrogant to be real, here is the excerpt from the "Jenna Ellis Show", which I would call another kind of show, beginning with the letter "S" and ending with "T", but I have to remind myself, "Shhhhhhhh, don't say it here":
The Republican party, instead of organizing a plan to deal with the sort of universal concerns of voters expressed during the midterms, strangely believe they were awarded the thinnest possible majority in the House of Representatives by voters in swing districts, to dedicate every breathing moment to oppose President Biden at every turn and to wage daily food fights not only with Democrats, but as I have been predicting for months prior to the election – among themselves as well. 
You can see this unfolding and it was evident even before all the votes were counted. They have nowhere else to go now. The inmates will run the asylum and direct animus toward anyone that does not share the extremism their base demands.  But on the bright side, it will all be over in two years.
Then again, the four years of Trump's term in the White House was so excruciating, it seemed like fourteen.  
---
[comment-form]
Please follow and like us: