Vaccine Defiance Pep Rally In L.A. And 'Murica's Flatline Doctors
Vaccine Defiance Pep Rally In L.A. And 'Murica's Flatline Doctors
California. 
It seems as though the loud minority fringe contingent consisting of the far right in this state, has been re-animated after the big fat slice of reality pie was served them following the abject failure of their recall drive against Governor Gavin Newsom. 
This time, it is yet more hysteria focused on the vaccine mandates. Although there are pockets of resistance across the state, notably there is a hotbed of it right in the City Of The Angels. 
It's not that there are any significant numbers of right wing malcontents in the city proper, but whenever an event such as a protest about government management of a pandemic is scheduled and promoted, it draws such elements from various other natural eco-systems of ignorance – Riverside, San Bernardino, Kern, parts of Orange and San Diego counties and even some from the Central Valley and the Eastern parts of the state.
The Los Angeles Times reported that thousands of malcontents gathered at Los Angeles City Hall earlier this week, to express their displeasure at the city's requirement of proof of full COVID-19 vaccination to frequent various entertainment related venues including movie theaters, malls, clubs, concerts, bowling alleys, restaurants as well as services like beauty salons, barbers, gyms and other indoor spaces. 
Some in attendance were public employees such as members of law enforcement, firefighters and city utility workers.
Most were the customary and typical extremist element that conflates duly constituted public health directives with authoritarianism and "freedom" or "liberty" with a desire for a utopia of anarchy. Protestors sported T-shirts with the new rallying cry of the neo-fascists, "Let's Go Brandon" — code for "F— Joe Biden".
Signs included "COVID Vaccines Are Toxic", "Vaccines Kill," and "Freedom Not Force!" and the mob recited defiant chants such as "Freedom! Freedom!" and "We will not comply!" 
Public safety workers' unions are, in Los Angeles County and city, as they are in Northern California, strongly resisting vaccines, even though the majority of their ranks have already been fully vaccinated. The Times reports that last week, United Firefighters of Los Angeles City Local 112 President Freddy Escobar said that 76% of the city's firefighter force is vaccinated, leaving about 800 firefighters who have not gotten the shots.
Protect and Serve, so long as it doesn't conflict with my political views
The LA Times also spoke with Michael McMahon, a 14-year veteran of the LAPD.  McMahon, who founded the group Roll Call 4 Freedom  told protesters that he handed in his resignation along with his police badge and gun on Friday,  in opposition to the requirement to be vaccinated against the deadly virus.
It was "one of the hardest days of my life," said McMahon, adding that he "could not acquiesce in good conscience to submit my health" to a "still-experimental" injection.  "Thousands of city employees are struggling with these issues related to their employment, and I want to say to you all, from the bottom of my heart, I love you and I understand, but coercion is not informed consent."
Something to consider briefly here. If such as McMahon and the other police officers and first responders that are in solidarity with him, have no better discernment, common sense and critical thinking capacity, perhaps it's best they do bow out. They probably are not capable of making sound decisions in moments of crisis that do unexpectedly arise in their line of work. They certainly don't seem to place the utmost priority on the credo of "Protect And Serve."
The holdouts in Los Angeles and elsewhere in Southern California, might want to do some soul searching, if only in terms of enlightened self interest, given the regrettable example of an officer on the San Francisco Police Department who passed away November 6th, from COVID-19.
Officer Jack Nyce, 46, a 17-year-veteran of the department had been on administrative leave when he contracted the virus and was subsequently hospitalized in an intensive care ward at Kaiser Permanente in Manteca, five days later, dying that same day.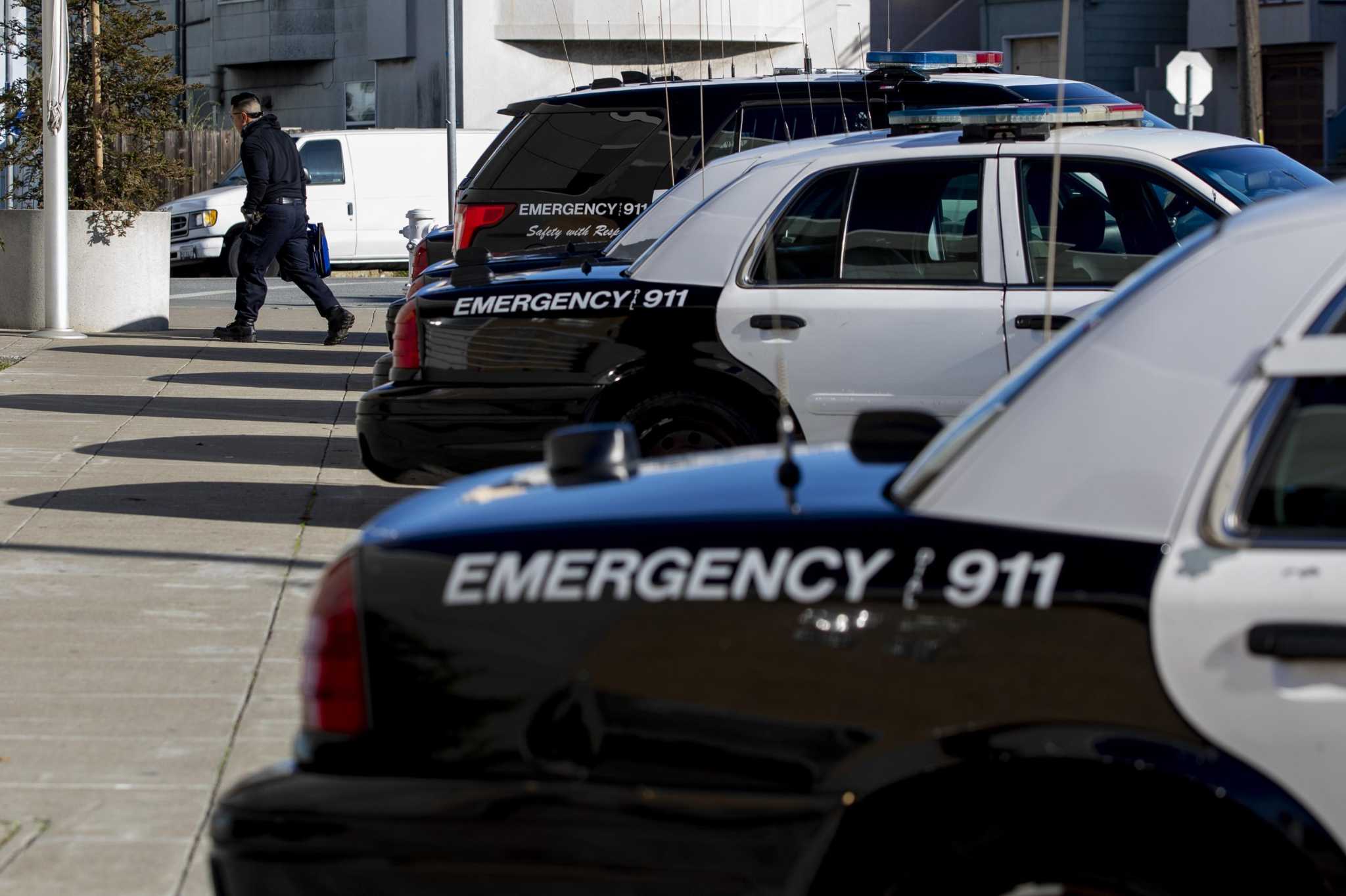 San Francisco police officer dies battling COVID-19 after failing to meet deadline for vaccination
Family members of Officer Jack Nyce notified officials of his passing at a hospital on...
"America's Frontline Doctors"? No. America's Flatline Doctors. 
A representative of junk science, anti-Covid vaccine, fake medicine agit prop group, "America's Frontline Doctors", founder Simone Gold, was on hand at the anti-compliance rally downtown, to disseminate vaccine and treatment disinformation to the audience.
Ms. Gold was among the insurrectionists arrested and charged with "Violent Entry and Disorderly Conduct" on Restricted Grounds at the U.S. Capitol on January 6, following both anonymous tips to the FBI and her own postings on social media referencing her activities on that day.
She is shown in the below photo, holding a megaphone and addressing seditionists who breached police defenses to enter the Capitol unlawfully. 
National Compass has previously reported on this group and outlined that the individuals crusading for notoriety within this collective, including the bizarro Stella Immanuel of "demon semen" fame, are in fact not on the frontlines battling COVID-19 or saving lives anywhere, according to MedPage Today, a peer-reviewed medical news site.  
And not only are they not actual warriors on the tip of the spear in keeping embattled emergency rooms and ICU wards staffed and operational, they are also engaged in consumer fraud. 
The Ivermectin peddling con game
Time magazine reports that their investigation uncovered that:
Hundreds of AFLD customers and donors have accused the group of touting a service promising prescriptions for ivermectin, which medical authorities say should not be taken to treat or prevent COVID-19, and failing to deliver after a fee had been paid.

Some customers described being charged for consultations that did not happen. Others said they were connected to digital pharmacies that quoted excessive prices of up to $700 for the cheap medication. In more than 3,000 messages reviewed by TIME, dozens of people described their or their family members' COVID-19 symptoms worsening while they waited for an unproven "wonder drug" that didn't arrive.
Medika describes the operational outline of the racket AFLD is running:
Patients are offered an online consultation for $90 and can then request prescriptions, for amongst others, Hydroxychloroquine, Ivermectin, and whatever other concoction of vitamins and drugs are available. These prescriptions are then filled by online pharmacies like Ravkoo, which partners with AFLDS to enable this 'pill mill'.
All total, as of the end of September, the Intercept reports, people who engaged AFLD for malpractice disguised as  "medical advice", have paid them $6.7 million and another $8.5 million in prescription charges.
Arthur Caplan, a bioethicist at New York University, recently told CNN that the service is "praying on people who are desperate, trying to sell them junk when they're in dire straits." And if not in dire straits, at least under the influence of con-artists like Trump and Simone Gold. 
Dr. Irwin Redlener,  director of the National Center for Disaster Preparedness at Columbia University, says of Gold and her fellow travelers at AFLD, "They're the 21st century, digital version of snake-oil salesmen. And in the case of ivermectin, it's extremely dangerous."
Dr. Robert Glatter, an emergency medicine physician at Lenox Hill Hospital in New York City, said, "Simply put, there is no clinical use for prescribing ivermectin to treat or prevent COVID-19. It's irresponsible and frankly dangerous for health care professionals to even consider prescribing ivermectin for treatment or prevention of COVID-19."
This, despite the adamant claims of such freebooters of defiance as Joe Rogan and his most prominent disciple, Green Bay Packers QB Aaron Rodgers, that Ivermectin is "not a horse dewormer." Except, it is and whatever experimental uses the drug might have for humans, the FDA has strongly warned of the health risks it poses to our two legged cousins and neighbors. 
There is scant enthusiasm in the mainstream medical community to entertain the entreaties of anti-vaxxers to prescribe Ivermectin and its companion in the quack medicine cabinet, Hydroxycloroquine, to patients. In fact, Providence Saint Joseph Medical Center in Burbank, California and the rest of their healthcare facilities in Southern California, formally parted company with Ms. Gold, in light of her advocacy of high risk, unproven treatments. Their statement included this disavowal:
We are aware of a viral video promoting what we believe to be unproven, false and misleading information about COVID-19 featuring a group of physicians. Dr. Simone Gold is not a member of the medical staff at any Providence hospital and her practice is not located on any Providence campus.

So, those willingly deceived by the likes of Ms. Gold and Ms. Immanuel, are resorting to purchasing these substances from alternate sources, including feed stores.  Various state's health officials – Mississippi's, as one example, released a report on Aug. 20 that 70% of recent calls to its poison control center were from people ingesting Ivermectin meant for livestock.
A most interesting aspect of the improper use of Ivermectin by misguided anti-vaxxers and Tea baggers, is the prominent characteristic of its effects.  
Dr. Robert Hendrickson, Associate Medical Director of the Oregon Poison Center and Professor of Emergency Medicine at Oregon Health and Science University in Portland, says regarding the drug that Ivermectin can accumulate in the brain. "That's where most of the toxicity is — you get off balance, you get confused and feel weak — that's where most of the interactions are," he said.
Sometimes it feels like the entire conservative political milieu from 2015 onward, has been chronic on the Ivermectin.  Either that, or Fox News, OANN and Newsmax all have the same effect as Ivermectin. Certainly there are no contraindications between them. 
No one but avid Qanon addicts will ever mistake 'America's Frontline Doctors' for Médecins Sans Frontières (Doctors Without Borders), for any number of reasons, but chief among them is that, AFLD doesn't save lives, it endangers them. 
From whence came America's Flatline Doctors?
It should be noted that AFLD did not spontaneously arrive on the scene last year, but has all the hallmarks of right wing astro-turfing.  AFLD, an initiative of Gold's political non-profit Free Speech Foundation, is in fact, the love child of two conservative political advocacy operations, the Council for National Policy (CNP) and the infamous "Tea Party Patriots." 
It is from those intersecting avenues, together with the amplification that Fox News and the rest of the MAGA media happily provide, that the madness has been set in motion.
COVID-19 Isn't Going Anywhere, It Has Powerful Allies - The Vaccine Defiant
   The pandemic still is not in the rear view mirror because COVID Vaccine refuseniks persist in ignoring the actual verified science of vaccines in favor of the political agenda of defiance.                                                                                                         […]
Stella Immanuel, a pediatrician in the Houston, Texas area, who is still licensed with some recently imposed restrictions, describes the coronavirus vaccines as being derivatives of the "Luciferase gene." The gene is unique to the common firefly – Photinus pyralis.
She conflates this gene, which has zero to do with any of the vaccines on the market (mRna, Viral Vector) – with "Lucifer" – a personality in the Bible, that some interpret as synonymous with Satan. 
Ms. Gold was an early adopter of Trump's disasterously false concept of the pandemic, proclaiming in a video from May of last year, "We're all acting as though there's a huge medical crisis. I'm not sure that it's front-page news."  The real issue, Gold added, was that "our constitutional rights are being trampled on right and left."
That was when the body count of Covid was just over 100,000. That we are now at 780,000 plus, headed to one million, seems to have no impact on her ethics of which are conspicuously absent or her sense of responsibility or empathy –  similarly non existent.
Gold and other luminaries with AFLD, publicized and embarked on a nationwide RV Tour, dubbed the "Uncensored Truth Tour" in May, which featured them collecting fees in advance of their appearances and then, in a number of locations, stiffing the audiences entirely by not showing up to the events. Interestingly, but not surprisingly –  of the 15 cities on the tour, 7 were in Florida and 5 in Texas 
In a press release prior to the commencement of the tour, Gold repeated the proven lie that her coterie were part of the national ranks of "front-line first responders":

"Big Tech, Big Media, and Big Government love to play doctor, but only your chosen physician should be involved in your private healthcare decisions, and no one should be silencing front-line first responders."
She also made the laughable claim that the AFLD 'physicians' are victims of 'cancel culture.'  Anyone not impaired by her anti-science indoctrination, would instead see as the real victims – the hundreds of thousands of people whose very existence has been canceled permanently by reckless conduct and weaponized politics. 
The Alternative Coronavirus treatment racket and extremist GOP
But on one tour stop in Tampa where the assembled crowd consisted of evangelicals, Gold seemed to have arrived at the realization – or the opportunistic message at least, that COVID-19 is a reality, telling the crowd,  "You can consult with a telemedicine doctor, and whether you have COVID or you don't have COVID, or you're just worried about getting COVID, you can get yourself a prescription and they mail it to you," she added.
So, from one May to the next, we go from, COVID-19 being just a lot of sound and fury from the gubmint medical authorities and little more than the seasonal cold or flu and then 365 days later, it is a thing you might be "worried about getting" and here's some really neat remedies the gubmint doesn't want you to find out about.
What's the difference between those two points in time, other than hundreds of thousands of Americans losing their lives? Well, there's Gold in them thar hills, both literally and figuratively. 
Gold, the beneficiary of a $150,000 Covid bailout loan – ("socialism", anyone?), is the equivalent in the medical field of Sidney Powell in the legal field, although Gold does possess a law degree from Stanford.
According to fellow students in her classes there, the only thing exceptional about her was her Red hair.  During the pandemic she has been an unabashed crusader for the high risk, unproven alternate therapeutic use of Hydroxychloroquine. 
Her friend, Arizona Congressman Paul Gosar, whose siblings and other family members abhor him,  was just censured along party lines in the House of Representatives for tweeting an animated video that portrays him slaying  Congresswoman Alexandra Ocasio-Cortez (D-NY) and attacking President Biden.
Believe it or not – Gosar, until yesterday's censure and removal from committees, was actually a member of the House Oversight Committee. I know, right? 
Here is a note of approval via Twitter, that Gosar sent Gold in May of this year:
MAGA adherents are impressed with the academic pedigrees of political ideologues that support their cognitive biases and such individuals having gone off the rails mentally, is of no consequence to them – (see L. Lin Wood and Rudy Giuliani, et al.). As Stephanie Mencimer, writing in Mother Jones describes it:       

Conservatives claiming to represent "we the people" love to dump on professional expertise and fancy pedigrees in latte liberals—just listen to Fox's Tucker Carlson repeatedly mock MSNBC host Joy Reid for having gone to Harvard. But when someone with fancy degrees and professional credentials abandons their over-educated tribe and converts, the right-wing superstructure will shower them with love—and money.

National and state medical boards have a curious case of the slows in doing anything within their authority, to pull the plug on charlatans that endanger public health, the likes of Simone Gold and her colleagues in AFLD.
The expiration date of when they should have their licenses cancelled has long past – so much so, don't even open it to smell it. It's bad. Gold's license (shown below, with her maiden name) to practice quackery was still operational as of September 13th:
Vaccinophobia – the new Red Scare
Ms. Gold is now in the business of amplifying rebellion and anarchic autonomy, using rhetoric that echoes the irrational paranoia of the McCarthy Red Scare era of the 1950s. 
"We are fighting a Communist takeover of our nation.  If you bow to your employer, if you take a knee to your employer, the scar of your surrender will not fade," she said. "Your belief in yourself will diminish, will weaken. This is actually their goal, to create a world where humans believe that they need overlords to think for them."
Circling back to Los Angeles City Hall, what does the current, white hot intensity of insubordination toward public health measures signify for the future?  Is it a consumation of a long courtship between the reactionary politics of the right and Christianity?  Is it an emerging Neo-Confederacy?
However it might be defined, it is a retreat to superstition, hysteria and ignorance that has the potential to start a fire that will burn everything in its path to the ground. January 6th may have been a dress rehearsal for the next act and cynical opportunists like Simone Gold (nee Tizes), are going to pour more kerosene on the flames.
---
[comment-form]
Please follow and like us: