Dumb Trump Barnacle Andy Biggs Attacks Dr. Fauci & COVID Task Force
---
Dumb Trump Barnacle Andy Biggs Attacks Dr. Fauci & COVID Task Force
The state of Arizona is home to some of the most idiotic members of Congress and that is saying a lot, considering that such luminaries as Jim Jordan (R-OH), Matt Gaetz (R-FL) and Louie Gohmert (R-TX), are all bidding for their preferred seats of dishonor in the GOP clown bus.
But Arizona boasts of the likes of Paul Gosar, Debbie Lesko and Andy Biggs – a trio that would constitute a slam dunk casting for a political remake of the Three Stooges: (sorry Three Stooges fans). Biggs is the "Moe" of this stooge contingent and Chairman of the House Freedom Caucus – a more stellar constellation of anecephalics you'll try in vain to find anywhere else.
"As our economy is restored, it is imperative that President Trump is not undermined in his mission to return our economy to greatness. Dr. Anthony Fauci and Dr. Deborah Birx continue to contradict many of President Trump's stated goals and actions for returning to normalcy as we know more about the COVID-19 outbreak." 
It's difficult to wrap one's mind around Biggs' notion of "returning to normalcy" in the face of Arizona's 87,425 COVID-19 cases and 1,757 fatalities, which are among the highest death rates per capita in the United States. On Wednesday alone, there were a record breaking 4,878 new cases and 88 deaths.
Biggs, in complete and inexcusable awareness of the shocking but non unexpected spike of coronavirus cases and deaths in his own state, used his access to the Fox News network, to speak directly to his constituency about how adamant he is against the resumption of community mitigation to arrest the latest gruesome stats. He may or may not have been expecting to be contradicted, but contradicted, he was.
Here was the exchange between Biggs, who represents (dubiously), the 5th district of Arizona, which includes, according to Wiki, most of the East Valley, covering most of Mesa, Chandler, all of Queen Creek and Biggs's hometown of Gilbert, and Neil Cavuto – almost the lone voice of dissent against Trump's failed presidency on Fox News.
Biggs drew a card in Fox Business host Neil Cavuto that he tried to play, but was, excuse the expression, trumped. Cavuto's prep for the interview, was heavy on facts and Biggs was full of BS. 
Biggs wants Dr. Anthony Fauci and Dr. Deborah Birx to be muzzled, because both of them make Biggs and the other Trump stooges in the so called "Freedom Caucus" look bad.  Biggs has acted as a Trump Cat's Paw against Dr. Fauci, since mid April.
They recognize that they are playing the role of social Darwinists – a trope that Republicans have cosplayed for decades. In this case, it's screw the infections and sickness based on the message of irresponsibility they are trafficking in and damn the torpedoes, full speed ahead with a re-opening that was so reckless it was destined to fail.
Red States' Re-openings Are Not Performing As Advertised - Look Like Clunkers
by Richard Cameron Red States' Re-openings Are Not Performing As Advertised The re-opening thing is not working as advertised.  New cases of COVID-19 are on the uptick in states where militant anti-stay at home protesters demanded that community mitigation come to a halt. Texas, even before Governor Abbott officially began authorization to […]
Biggs said in a radio interview on Fox News that Dr. Fauci, is "scaring the crap out of Americans."
"The reality is he is scared the crap out of Americans. That's what he's done. And with his co-folks in the left wing media, they've scared people. You've got businesses that are afraid to open. They're scared to death to open because someone is going to get sick or they get sick. He has scared people who have children and he is gone back and forth. I mean now you don't wear a mask, people look at you. 
Biggs, for the purpose of shaping the propaganda for his hard core right wingnut base, cannot lash out at Governor Doug Ducey, a fellow Republican, who, for a month and a half, denied the obvious mismatch between re-opening non essential businesses and public resistance in Arizona against safe behavior and now in the last week, has reversed course.
Biggs then, must pick an easier, more attractive target that his voters already loath – "the left", "Democrats" and the "media." 
Congressman Biggs is firmly in the camp that equates mandates to wear protective facial covering as some form of anti-Constitutional authoritarianism.
"Tyrannical governments have issued mandates that everyone
in virtually every place wear masks." 
Biggs is also a conveyor belt for "Deep State" conspiracy narratives. Of the component of widespread contact tracing, which health authorities are in universal agreement is essential, Biggs says will, "allow big tech companies to surveil" citizens and "then turn that accumulated information over to the government."
As to Biggs' arrogant questioning of the credentials of Dr. Fauci and Dr. Birx, there can be no dispute that Fauci and Birx possess the training and expertise to advise Americans and policy makers on how best to approach this expected new outbreak and that Andy Biggs, who joined in the chorus recommending dangerous, untested and failed treatments for COVID-19, does not. 
Biggs, with no insight other than the junk science he habitually consumes like Trump consumes KFC and 'hamberders', is not someone you want to heed unless you are cavalier about personal health risks. That would be the MAGA contingent.
Here is what Dr. Fauci told the BBC yesterday: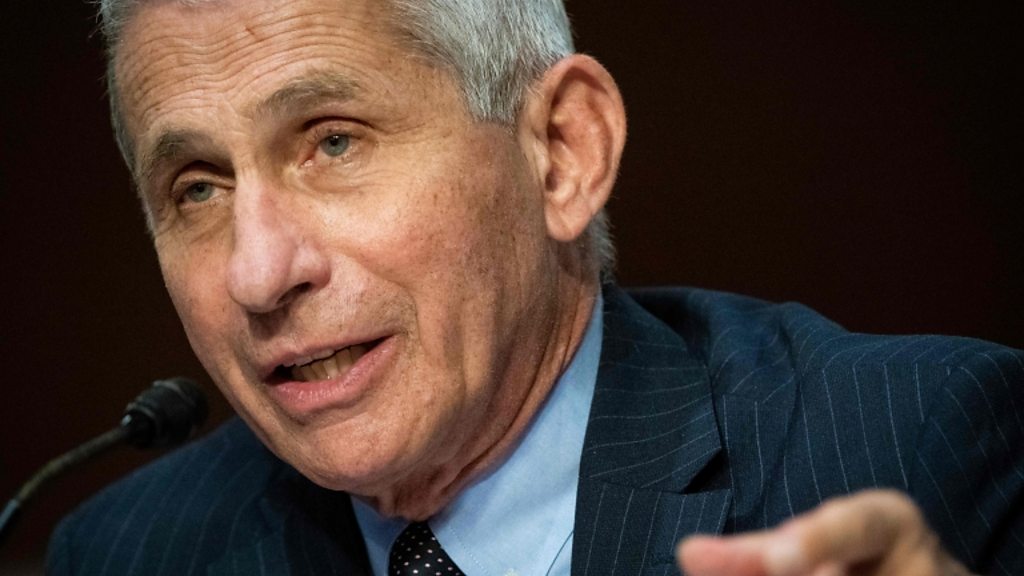 Best of Today - 'We need to engender some responsibility in people, particularly in the younger people' - BBC Sounds
Infectious disease expert Dr Anthony Fauci on controlling America's Covid outbreak
[comment-form]
Please follow and like us: